Important Details
Modem not included. You may purchase a WiFi modem from us for $99.95
A $39.95 activation fee applies to all activations, including a change of address, and reconnections fees.
Service available only where technology permits. Call or email to verify eligibility.
Please review our Terms & Conditions for full details concerning the use of your services
NO CAPS | NO CONTRACTS | NO WORRIES
High-Speed Cable Internet to Meet All Your Needs
Get the speeds you need to browse, stream, and download with broadband cable internet access from ! With , you get truly unlimited Internet at a price that works for you. There are no hidden fees, no catches, and no contracts to tie you up, either.
No matter what package you choose, you're picking an Internet provider that will never try and lock you in with a month-to-month contractor or constantly ding you with hidden fees. With , you get…
Excellent Service
Zero Hassles
High Speeds
Unlimited Downloading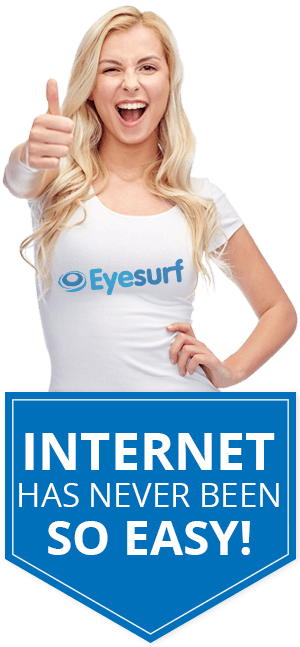 NO CAPS | NO CONTRACTS | NO WORRIES
All internet packages include Unlimited downloading!
High Speed Cable Internet in British Columbia
Eyesurf offers a broadband cable internet service to give you the speed you need to browse, download music, heavy files and so much more. We offer unlimited internet packages at a price you can afford. Our cable internet bundles are structured to meet different needs. We'll never give you any hidden fees of contracts that tie you up. We promise to offer internet packages that you can rely on.
Regardless of which package you choose, Eyesurf promises a reliable service with exceptional customer support and unbeatable prices. No fear of being locked in by a monthly contract or constantly getting unwelcome surprises due to hidden fees.
Eyesurf guarantees:
Exceptional customer service

Easy setup with no hassles

High speed unlimited internet connection

Unlimited downloading
If you need any of our broadband cable internet service, we are happy to help. Get in touch with us today for more information.