Serving Areas: Available in most areas of Ontario. Please call or email to inquire about availability in your area
Important Details
Modem not included. You may purchase or rent a WiFi modem from us. For the Platinum package, the modem is $99.95 to purchase, or $8/month to rent. For the Diamond and Emerald packages, the modem is $129.95 to purchase, or $9/month to rent.
A $39.95 activation fee applies to all activations. As a limited time promotion, this activation fee is waived with a modem purchase. A change of address, or any re-connections fees will be subject to this activation fee.
Service available only where technology permits. Call or email to verify eligibility.
Please review our Terms & Conditions for full details concerning the use of your services
Service Areas: Burlington, Belleville, Brockville, Chatham, Cornwall, Essex, Hamilton, Kingston, Kingsville, Leamington, Lindsay, Milton, Niagara Falls, North Bay, Oakville, Peterborough, Sarnia, St Catharines, Windsor
Important Details
Modem not included. You may purchase a WiFi modem from us for $99.95, or rent for $8.00/month
A $39.95 activation fee applies to all activations. As a limited time promotion, this activation fee is waived with a modem purchase. A change of address, or any re-connections fees will be subject to this activation fee.
Service available only where technology permits. Call or email to verify eligibility.
Please review our Terms & Conditions for full details concerning the use of your services
NO CONTRACTS | NO GIMMICKS | NO HIDDEN FEES
High-Speed Cable Internet to Meet All Your Needs
Get the speeds you need to browse, stream, and download with broadband cable internet access from Eyesurf! With Eyesurf, you get truly unlimited Internet at a price that works for you. There are no hidden fees, no catches, and no contracts to tie you up, either.
No matter what package you choose, you're picking an Internet provider that will never try and lock you in with a month-to-month contractor or constantly ding you with hidden fees. With Eyesurf, you get…
Excellent Service
Zero Hassles
High Speeds
Unlimited Bandwidth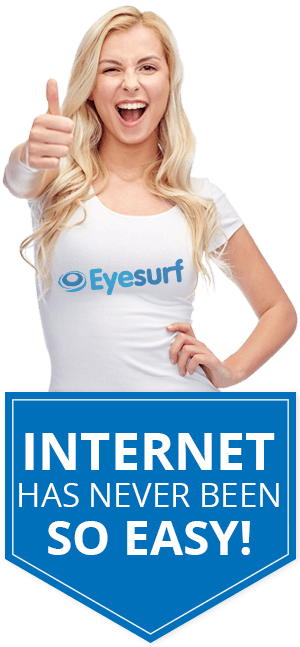 NO CONTRACTS | NO GIMMICKS | NO HIDDEN FEES
All internet packages include Unlimited downloading!