TekSavvy Vs Rogers Internet
TEKSAVVY VS ROGERS INTERNET: HOW THEY STACK UP
Get The Best Deal On High-Speed Unlimited Internet
When it comes to high-speed Internet, Rogers and Teksavvy are two of the most popular options–but are they the best? Take a third option with Eyesurf home Internet, and experience freedom from hidden fees, contracts, download caps, and frustrating fine print. If you want high-speed Internet without the headache, it's not Rogers vs Teksavvy — it's Eyesurf, every time.
Competition stacks up against Eyesurf – TekSavvy Vs Rogers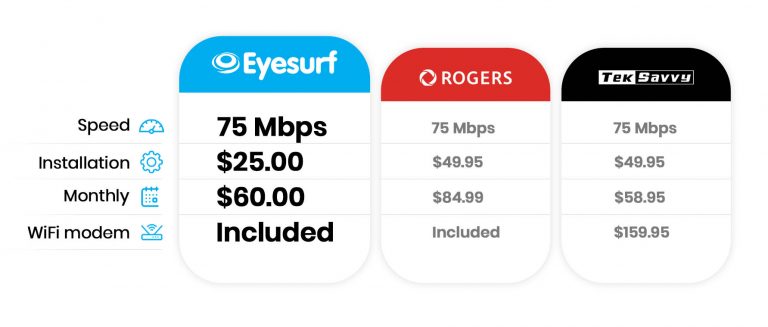 See The Eyesurf Difference
If you're sick of painfully slow downloads, huge bills, and frustrating limits on your Internet service, it might be time for a change! Switch to Eyesurf and see the difference hassle-free Internet makes. We're committed to fair prices, unlimited usage, and high speeds. All our packages are fast and let you download, stream, and browse worry free!
Eyesurf has:
Unlimited downloads
High speeds
No hidden fees
No contracts
Still not convinced Eyesurf is right for you? See how we compare to the competition!
When I first heard about Eyesurf's $50 Internet and phone bundle, I was suspicious and thought it was too good to be true. I had to try it. I'm telling you now, they are the real deal! My bill is literally $50 + taxes and that's it!
Before Eyesurf, I was paying over $100/month for just Internet and Home Phone service. Switching to Eyesurf cut my bill in half. THANK YOU GUYS!"
I've been using Eyesurf for my home and business for over 3 years now and have no absolutely no complaits. I've saved over $600 this year alone. Been recommending you guys all the time. Keep up the great work!
I have been with Eyesurf since the very beginning. Internet speeds are always at or very close to advertised. I never have any downtime and prices are exceptional compared to the big ISP's. Would recommend to anyone looking to save on gouging from Bell or Rogers.